Price:

$45.00
2020-11-26T19:02
barrecavineyards
Related Products
Muscat is another light white wine grown organically by Down River Orchards.  It is semi-sweet with a hint of citrus flavor, a light yellow color and refreshing aftertaste.   We enjoy it with seafood and poultry dishes.
Siegerrebe is a relatively new product in our inventory.  Our grapes are grown organically by our neighbor Down River Orchards.  The wine is crisp and semi-sweet with a distinct flavor that has quickly become a favorite with customers.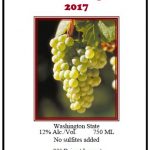 Our Okanogan Riesling is not as sweet as most Rieslings.  We strive to capture the perfume that ripe Riesling releases in the vineyard.  It is a semi-sweet white wine with the aroma of organically grown grapes fresh from the vine.