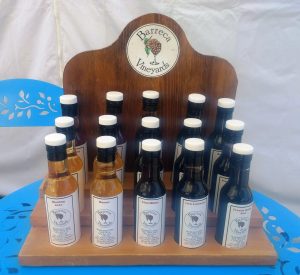 Lucie Kuhlmann – a light red semi-sweet award-winning dinner wine
Okanogan Riesling – a drier clean white wine
Leon Millot – a sweeter red wine, Grand Champion at NE Wash. Fair
Baco Noir – Our driest wine, very popular, distinct berry flavor
Siegerrebe – A crisp white wine, limited supply
Muscat – a semi-sweet white wine with hints of citrus
Gewurztraminer – A must-try white wine , limited supply
Apple Wine – made without adding sugar by concentrating the juice
Huckleberry – wonderful wild berry flavor, limited supply
Elderberry – a perfect contrast between strong berry and apple flavors.
Maréchal Foch – a deep red full-bodied wine, great with red meat
French Rocks Red – our house blend of red wines
Get a full case of mini-bottles.  Each is a 5th of a full bottle. plenty for a sample.  It's like having a miniature wine cellar.