A lot of things don't seem normal anymore.  It felt like they were building up as the long "Indian Summer" extended from September through October.  But today only one of them hurts more than the others.  Our dog, Gretchen, always waited for us at the top of the driveway when we came back from someplace like the farmers market.  Today she is still there, but buried in some very cold ground.  Grieving for her comes in waves.  It strikes me when I walk into the house, and she doesn't bark, see her pawprints in the snow or her hair on the blankets of my bed where she spent her whole last night, breathing, but not able to get up.  The day before we woke up with her struggling to breath and her eyes wide open on the rug by Cheryl's bed.  She looked like she might die at any minute and on the phone an emergency veterinarian agreed, but she didn't die.  Her heart murmur had been getting worse, but this was very sudden.  The day before that, she could walk, but after November 10th, she could try but we had to help her move.
We decided that if she lived through the night but still could not move, we would have a veterinarian put her to sleep. On Veterans Day we comforted her last moments as she died and surely a part of us died too. The house seems empty. Yes, we still have a house cat, Gray-C and an office cat, Pete. Dogs pay attention to you. They like to play outside and follow you around. They relax when you relax, and they make you relax when you are struggling. Gretchen is gone and nothing is normal.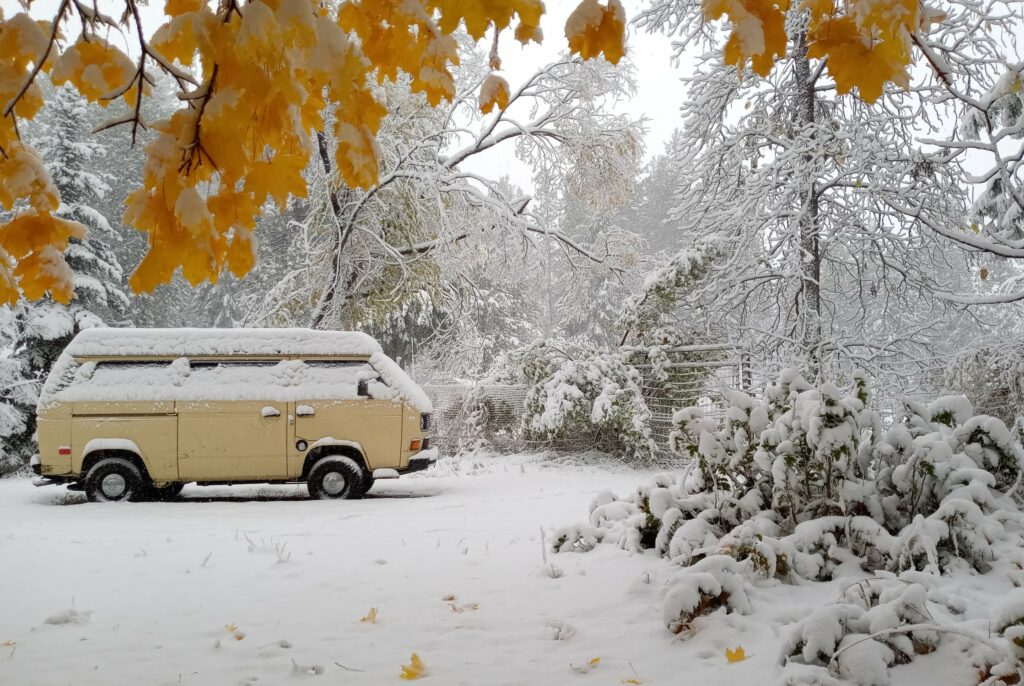 Okay, some other things happened since I last wrote something personal at the beginning of September.  Maybe working backwards will work.  After all, time is arbitrary.  At least that is the theme of an article I wrote to correspond with the end of Daylight "Slaving" Time.  Weather seems to be somewhat arbitrary too.  The same day that the time changed, snow fell, and we got our first frost.  The snow and frost are still here and show no signs of going away.  We went from not having a real Fall to full blown winter overnight.  Many trees still have green leaves on them.  Bird nets still hang in the vineyard or are on the ground under the snow.  (Now they start to rip if you try to retrieve them.)
We did get our grapes harvested and some of the neighbor's too. Like much of the State, harvest was late, and the grapes were not as sweet as we like. My new secret weapon is a freezer. Ironic I know. When you freeze a sweet liquid, the water molecules freeze to each other, and the remaining liquid contains most of the sugar. This is the foundational physics principle of ice wine. I am using it on some vintages this year. Not "ice wine" but effectively "late harvest". Winemaking started late and will continue for a while longer.
Moving back further still, I had a birthday on September 26th (75). My daughter, April, son James and her niece, Sadie came to help pick Lucie Kuhlmann, my main variety of grapes October 16th. That was a great birthday present. Some other true friends helped harvest the rest. The crisis of the day consumed much of the calendar.
Printing 16 map books (10/4/2022)
Drying Himrod Grapes for raisins (10/7/2022)
Fighting off Robins who ate 25% of many of our grapes and getting more nets up(10/11 to 10/13/2022)
Attended the spreading of our neighbor Vern DeKinicker's ashes by the house he was having built but didn't get finished. (10/17/2022)
Started a new compost bin which is now full (10/20/2022)
Cheryl finished planting garlic and covering it with straw (10/22/2022)
Harvest 300# of Leon Millot from the Colville Valley (10/27/2022)
Last day of the Farmers Market (10/29/2022)
Pick 200# of Siegerrebe at Down River Orchards (10/30/2022)
Picked all the rest of the grapes at home with Joe Greco (11/1/2022)
Last of winter firewood arrives (11/2/2022)
Picked all our apples in a stiff cold wind (11/3/2022)
Picked up scrap wood for biochar and 262# of Fredonia Grapes before it snows (11/5/2022)
Gretchen laid to rest. (11/11/2022)
From here on out it looks like a long cold winter. I have lots of reading and writing to do. (It is a lot easier on my back.) Not having the farmer's market twice a week is like having 3 more days a week. I'm glad that Cheryl was back on her feet and able to help for the last month or so of the market. Wine making is winding down. Somewhere in there may be a long winter's nap.