Under an orange sun the sky is gray and the shadows are blue. With temperatures above 100° for many days in the last month and the air quality often in the unhealthy range, today (August 8th) is very rare since it has been raining since early morning. At first smelling like wet smoke, it is now cool and humid enough that you can see your breath at 60°. We can add that to the long list of strange changes this summer.
There may no longer be any such thing as a "normal" day, but our habits have definitely changed. Those precious hours when there is morning light and cool air, prompt us to rise at 5:30 am or earlier and work outside for hours before making breakfast. Often we nap in the afternoon and go to sleep at dusk when the outside temperature finally slips back below the 75° indoor temperatures and we open the house and office to cool them down.
Then there are the fires. The Chuweah Creek Fire near Nespelem is 50 miles away (95% contained), but we are directly downwind. It started on July 12th and is now 36,752 acres. Another fire, the Summit Trail fire, started in the same lightning storm and is now over 28,000 acres (30% contained), just to the southwest of that is the newer Whitmore Fire. that is at 55,970 acres (20% contained) started from a thunderstorm on August 3rd. We are directly downwind of all three of these fires most of the time.
Not to be outdone, we had our own local fire, the Goddard Road Fire, now at 800 acres but contained. Contained fires still burn. None are considered out until winter, although this rain really helps. It was July 16th. We had already purchased more fire extinguishers and a backup generator. In the morning I picked pie cherries and made a pie. That afternoon I had planned to mail rock club newsletters in Kettle Falls and go on to Colville. (From my journal.) "I was pulling out of the driveway after a vehicle had gone by with the siren wailing. Then a plane went in the same direction. I had a bad feeling about that. As I drove to Kettle Falls to mail the newsletter more and more emergency vehicles passed me going south. I knew there was a new fire and it was close by. On the way, (our neighbor) Vern texted a picture of the plume and Cheryl texted that the fire was 50 acres. I had intended to go on to Colville but scratched that, picked up some water, mailed the newsletters and headed home"
Thus began a long night of preparing for level 2 evacuation (be ready to leave at any minute).  We were packing clothes, valuables, important papers, photos and other memorabilia.  We were on the shortest route to Lake Roosevelt from the fire.  Soon a line of six Fire Boss airplanes was flying over us one after another dropping 800 gallons each of water on the fire.  They were joined by helicopters of different kinds sucking up water or lifting it in buckets.  A huge red jet followed to dump fire retardant on houses, some owned by friends of ours. A spotter plane flew in circles higher up running the show.  After dark they went home. We stayed home, alert for the smell of smoke. So much for going to the Farmers Market in the morning.
Two days later my daughter, Bina, and her children, Ovid and Nala came to visit. The evacuation warning had been lifted but it came back on because the Goddard Road fire flared up again. So they got to see the air show for themselves. They also were put to work around the farm. Ovid used the battery-powered trimmer in the vineyard. The whole family helped unload wine bottles and break down cardboard boxes. Then Ovid and Nala came with me to drop the cardboard at the recycling center, talk to the Real Steel junk yard people about our Subaru body and get a load of sawdust dumped into the pickup at Webley Lumber. And oh yes, they went swimming at nearby Bradbury Beach on Lake Roosevelt every day.
We also had another visitor, our neighbor's cat, Pete, who evidently loves kids. He slept with them in the back of their pickup truck.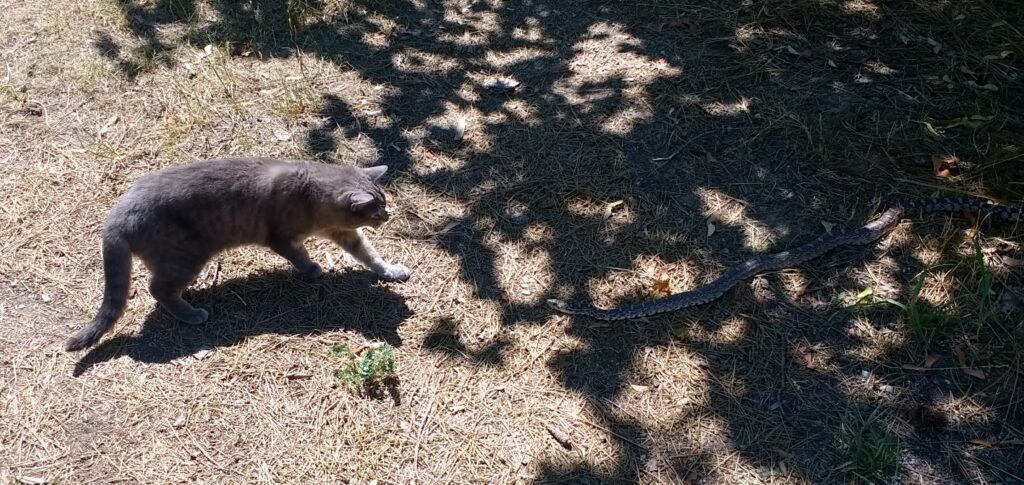 Other critters added to the cats. A large gopher snake fascinated Gray-C but left with no harm to either. Gray-C did surprise us with a dead weasel. A small frog decided that the spout of our watering can was its favorite place and returned there day after day even though he was washed out each time I watered the grape cuttings. Maybe the strangest critters were not here but were spotted by Forest Service rangers travelling with Chris Wujek, who I wrote about last year, camping in the Kettle Range. Son-in-law, Tony Houston, sent pictures of the camels and the rest of the herd, less one goat, that the herders were roasting for dinner over an illegal fire, which caught the attention of the Forest Service Rangers.
Despite the drought, summer brought a bounty of fruit, which also kept us busy; drying cherries; making pies; freezing strawberries, blue berries and apricots; spreading peaches and other fruit on corn fritters and looking mostly "fruitlessly" for huckleberries.  The few that survived were shriveled and small.  The forest roads were empty and lined with dried up bushes and trees.  The irrigated grape plants like the sun and are growing a large crop if it survives the bugs, the birds and the intense heat.  The young plants in pots have been gathered under our big filbert tree for shade.
The fires spurred an uptick in map sales. But washing fire fighters clothes has been taking up the morning hours of the local laundromat. We wear masks for ash and smoke some days as well as for Covid 19 on others. On the evening of August 3rd and 4th, thunderstorms crashed around us all night. Thankfully, they brought a lot of rain and very few new fires. We didn't get much sleep but will trade sleep for rain any time.