Most of us are very glad that this year's fire season has been relatively mild. But if you are a member of a fire-fighting crew like Alan McKee and his Northern Columbia Reforestation team, it's been a tough year financially. Fire Fighting pays well, is recognized as necessary, is regulated to provide sustainable working conditions and gets a lot of attention. To stay employed and productive while not fighting fires, the crew pooled resources to equip themselves for forestry management. A lot of their work involves forest restoration and fire protection and often boils down to thinning overstocked forest stands, chipping up those smaller diameter trees (up to 8 inches) and broadcasting the chips back on the forest floor.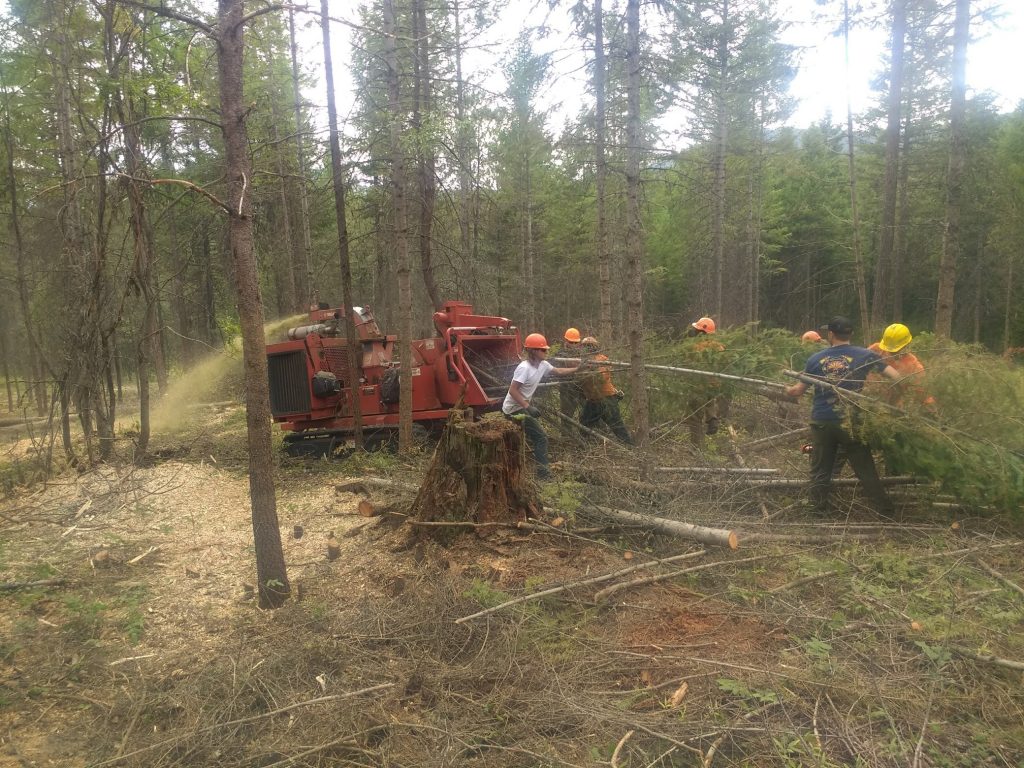 The chipper crew at work
While this might sound like fun in a noisy macho go-getter kind of way, it is hard work, needs serious ear protection and wears down your body. The crew is younger, 20-40 years old. (Of course at my age, 72, almost everyone seems younger.) The equipment is expensive to own and operate. Most of the projects are either on government land or subsidized through government cost-share arrangements on private land. So funding can be minimal and difficult to obtain.
Timber markets are down "In the second half of fiscal 2018…shipments swamped the market, plunging prices by 50 per cent…The outcome is that higher-cost mills in western North America have been curtailing production to contend with below-cost prices." (woodbusiness.ca). This makes timberland owners more reluctant to plow money back into increasing production. In short, it's been hard to stay chipper while chipping.
On the up side, chipping is very good for the forest.  Most land owners will look at it as fire prevention. Spacing trees 14 feet apart on average, cutting off limbs up to 8 feet above the ground and spreading out green wood chips on the ground does make it unlikely that a fire will reach the crowns of the trees and spread rapidly in the wind.  Having an open forest floor makes fighting fires much easier. 
But there are many other advantages. The chips retain moisture in the ground and promote the growth of soil-enhancing microbes and fungi. The spacing lets big trees accumulate more water and sunlight which "releases" them to grow bigger and faster.
Forest Ecologist Jay Berube, explained to me that historically big pine trees were spread thinly over a typical acre and the underbrush was kept in check by frequent fires burning up pine cones and needles every 5 to 10 years. He had his property thinned and the debris chipped 3 years ago. Before that you could not see through the woods more than a few feet. Now you can see hundreds of feet.
Considering the historic forest in terms of diversity and vitality Jay noted that mule deer, elk and moose could see a long ways and roam easily through a historically open forest. As timber was clear-cut or burned and grew back thicker, smaller white-tailed deer became predominant.
When I first heard about Alan McKee and his chipper, it was described as chipping up slash piles. I thought this would be a great thing. We have all seen huge slash piles along forest roads and the plumes of smoke from them when they are burned. Slash piles release smoke if burned and carbon into the air while they rot. Carbon, especially biochar, when sequestered in the soil can promote vitality and diversity. It is a valued resource that is wasted in slash piles.
The chipper does have a winch that can drag in material up to 8 inches wide. But forest land treatment projects don't deal with slash from commercial logging. This seemed like a big resource issue so I stopped by some government offices to learn more about forest management.
Mark Simpson from the Natural Resources Conservation Service (NCRS) agrees that big slash piles left from logging are a wasted resource. NCRS does not deal with commercial logging although it does support fuels reduction projects. He recounted how a lawsuit to limit smoke from crop residue fires had resulted in NCRS not recommending burning as an alternative. He knew of some landowners hiring contractors with wood cutting machines to recover firewood from the piles. Others were making use of the Waste to Energy plant in Spokane. NCRS does allow some slash to be piled in 10' by 15' wildlife shelters which help porcupines, quail and skunks among others.
Jessica Walston at Washington's Department of Natural Resources (DNR) identified piles of freshly cut pine as a possible source of pine beetle infestation. The DNR has a program to cost share 50% on the work associated with fuels reduction and forest health that requires a prescription from their forester. Slash generated from the program is required to be treated. It can be removed, hand piled and burned, "masticated" (brush hog like treatment) or chipped. Jay Berube worried that mastication can disturb the soil to he chose chipping. Burning has its own issues and permits but can be done in a way that adds biochar to the soil. Removal works well for fence posts and firewood. DNR also does permitting for slash piles left by commercial logging and for burning slash.
Both of these agencies often recommend that forest landowners contract a forester to write a land management plan. DNR has a cost share program to help with that. Historically land was put into a low timber value classification for property tax purposes if trees could be seen on an aerial photo of the property. More recently guidelines from the Washington State Department of Revenue look for a "copy of the timber management plan for the land, prepared by a forester or a person with adequate knowledge of timber management practices." New landowners need to be aware that county assessors are looking for these plans, though implementation varies.
Nicole Vaillant writes in a National Forest Science Update on Fuel Treatments that "The current level of fuel treatment and beneficial fire is not keeping pace with the level needed to fully create and maintain resilient landscapes, especially in frequent fire rotation areas." This reflects a national attitude that emphasizes a strong response to forest fires once they are started, but neglects preparation and prevention with fuel reduction and controlled burns. A nice wet summer like this might be a good time to feel a little more chipper about chipping in the woods.