Preface: This is the eulogy that I gave on December 6th, 2019 at the funeral mass for my father, Joseph A. Barreca Sr.  I wrote it with the intent of speaking to and for my brothers and sisters but there were many more who came to the funeral because they also wanted to pay their respects.  I am grateful that they also thanked me for this eulogy and wanted access to a written copy.  I am especially grateful to the rest of my family for each contributing to that celebration and sharing the load that comes with the death of a loved one.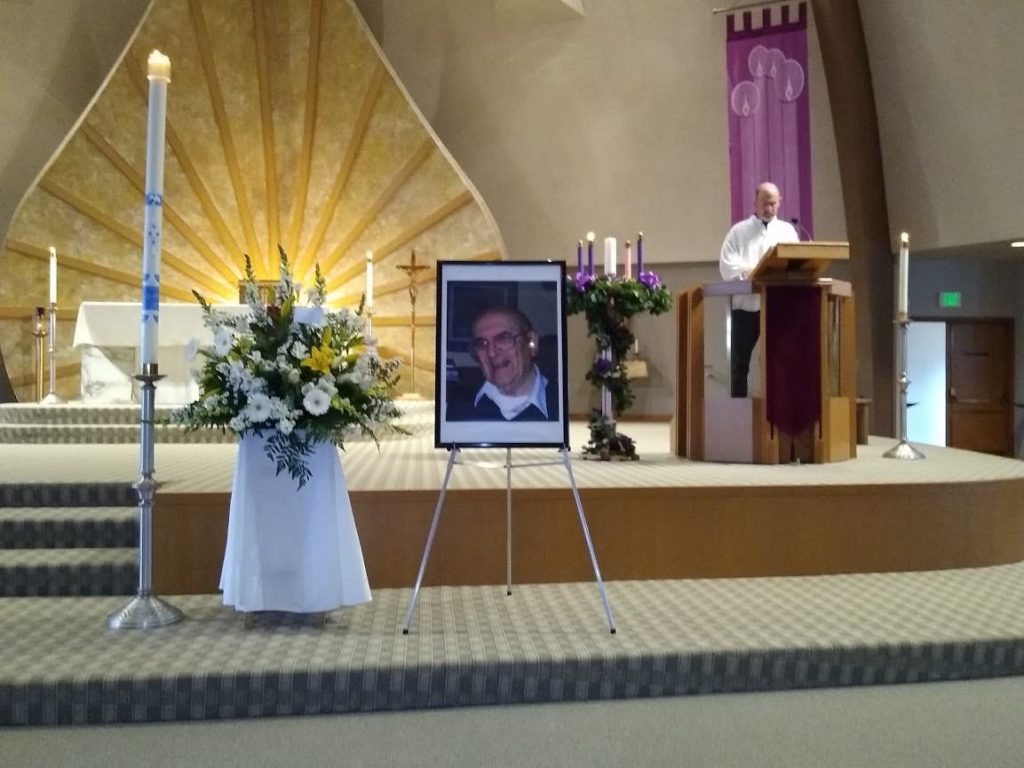 Introduction:
Thank you all for coming to help us celebrate the life of my father, Joseph Barreca Sr. I'm glad to be up here in the pulpit where I don't need to worry about anyone throwing tomatoes. But it also has nowhere to hide if I choke up while speaking.
The last time I spoke at an event like this was 10 years ago at Mom's Memorial when I got up to say we all carry on her love of plants and animals in our hearts. This talk is a little like that. We are carrying on for Dad.
Our Father loved his, his family, his faith, his food and singing, pretty much in that order. He would have totally loved to be here now. And I'm sure he is.
Both Dad and Mom were part of what Tom Brokaw called the Greatest Generation.
They met at a time when the whole country united to fight a war. Dad loved participating in that and had faith that we would prevail.
Faith
Faith was a virtue that he had from an early age. As editor of the Pattonville High School paper in 1938 he encouraged readers to "not get out of step… keep two feet on the ground and two eyes toward the stars."
A few years after the war with a law degree coming; one child born and more on the way he renewed his commitment to the Catholic Church. Ironically none of his children are practicing Catholics today. But that doesn't mean that we have left his values behind.
Dad was a man of the Catholic Faith. But he considered himself more of an Evangelical Catholic and belonged to the Full Gospel Businessmen. It didn't bother him that the two belief systems were not exactly the same. A favorite song that I sang with him in an Indian village near Oaxaca in 1988 was
"It Ain't Necessarily So"
Jonah he lived in a whale
So goes the Bible Tale
The things that you're liable
To read in the Bible
It ain't necessarily so
I think that often faith is assumed to be the same as belief. Although we don't all believe everything Dad believed, we have faith that the world is basically good; that the sun will come up in the morning; that living beings eventually die and that humans don't write the laws of nature.


Hope
Whether it came from his faith or fostered it, Dad was incredibly optimistic. The cup was not half full for him. It was overflowing. He always hoped for and expected better things for himself and his family. My daughter April told me of a saying by Charles Swindoll: "Life is 10% what happens to me and 90% how I react to it." One of his favorite Bible sayings was "God has not given us a spirit of fear."
Throughout his earning years Dad hoped for a better life for his children and made that a reality by sending us all through college. He hoped that Marc would become a judge and he did. He hoped that I would become a priest and I didn't. I'm sure that he prayed for both outcomes and accepted them both equally.
You often get those two together, hope and prayers. I think that muddies the waters. Hope is embedded in action. If you lose hope, you give up. Prayer is more like bargaining. "I'll give up chocolate for Advent and pray that my credit cards are paid off." It voices our desires. Buddha attributed all suffering to desire. It's hard and probably not even helpful to not have desires but with pure hope, prayer would sound more like: "God, lay it on me! I know I don't call the shots."
Dad never gave up hope and neither do his children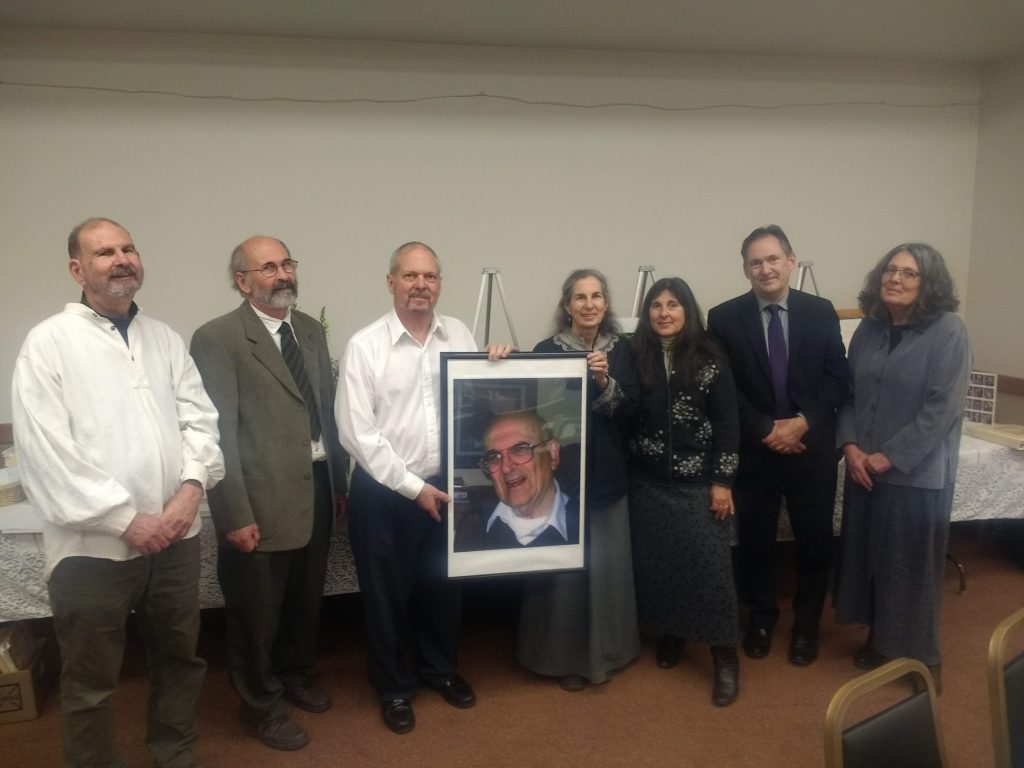 Love
Another one of Dad's favorite bible quotes is "God is Love." Even when he was no longer working at an office, Dad was working at love. His total devotion to taking care of Mom in her dying days is a good example of that. Making sure to call each of us once a week is another.
Love is often equated with charity. Dad was big on charity. He gave generously to charitable causes. For years he took day-old donuts that bakeries gave him to shelters on First Avenue. That probably contributed to his diabetes in later years and it points to a fundamental pitfall with charity. The recipients often get the impression that they are lesser people; that the folks doing the donating are feeling like they are the hands of God. Charity can backfire.

Love is more about accepting and enjoying people for who they are, even if they are not like you or even like you would want them to be. Dad loved people. He had no problem meeting and greeting strangers. That mostly went well but sometimes people were taken aback. I think Dad passed that on to us too. His kids feel that people are created equal.
The hardest people to love are those who don't agree with us. In his later years, Dad was one of those. None of his children agreed with his politics. But we all loved him and knew that he loved us.
In St. Paul's Epistle to the Corinthians, he writes:
Love is patient, love is kind…
Love never fails…
And now these three remain: faith, hope and love. But the greatest of these is love. (It's a long and beautiful passage that I'm sure you have all heard.)
We inherited from Dad the love in our hearts that we have for all kinds of people and with that love we are carrying on an old family tradition.