As I sat down to write this blog and noticed that I was nearly 2 months behind, that it was almost Memorial Day and that most of what I had to report was pretty boring. Then I got a text from Cheryl, that a black bear had just come up to the bedroom door, a few feet from where she was sitting. She managed to scare it off by clapping loudly. So it may not be as boring around here as I thought.
Spring, supposedly associated with actual springs of water, has been extremely dry. The transition from freezing nights to sweltering days sometimes happens in 24 hours. There is very little moisture to buffer the heat swings. Temperatures are expected to reach 90° in the next few days. Grasses are seeding out early or failing to do so at all. It is light out a 4 AM and is still twilight at 9 PM. So in a big reversal, it is better to work outside early in the morning and late in the afternoon than during the middle of the day.
Although there is only one bear sighting, the deer are showing off their velvet antlers; the turkeys have been strutting their fantails; the hummingbirds are back and fighting over the feeders; and yes, our two cats are still fighting each other if they get a chance. Luckily, being cats, they spend most of their time sleeping.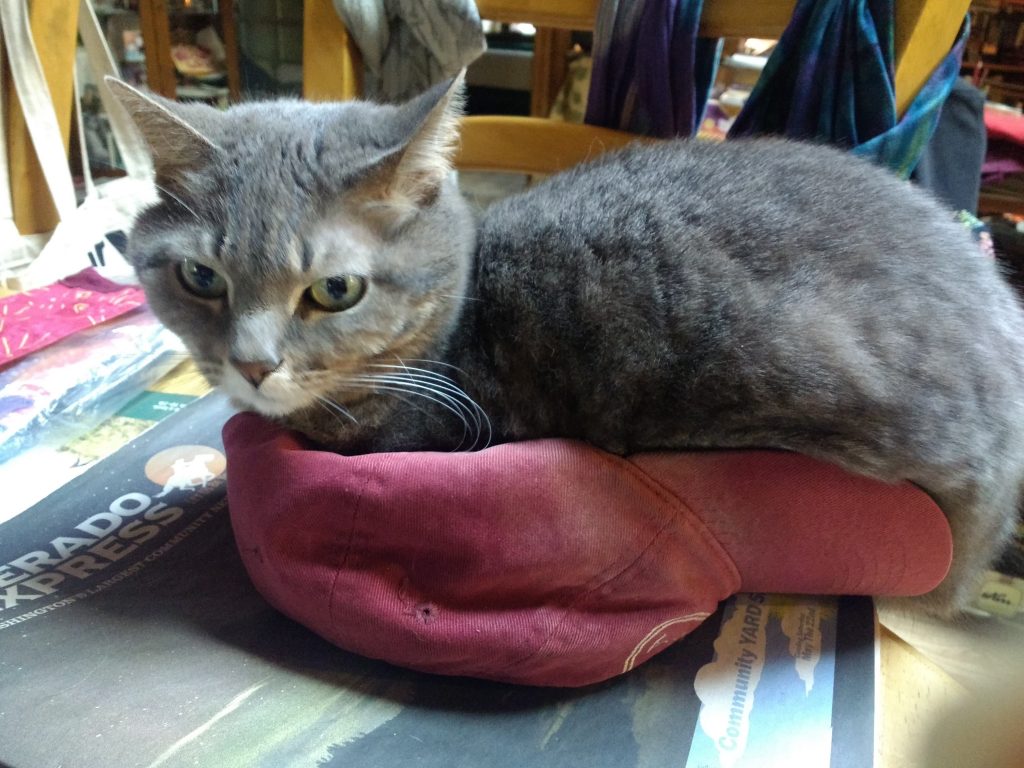 While the cats have both suffered slight wounds, our health is not too bad. We both have our shots, unlike most people in Stevens County, which has one of the lowest vaccination rates in the State and one of the highest infection rates. But we are not getting any younger and do have some issues, which will remain confidential for now. In that light however, here is an image of Cheryl rocking a hospital gown before and MRI. We know she has some issues with her back but it is not painful. But a month after the scan we still are not able to talk to an orthopedic surgeon because of a failure to communicate between the primary care, insurance, scanning and analyzing doctor. A lot of stressful advocacy by Cheryl is slowly moving it along.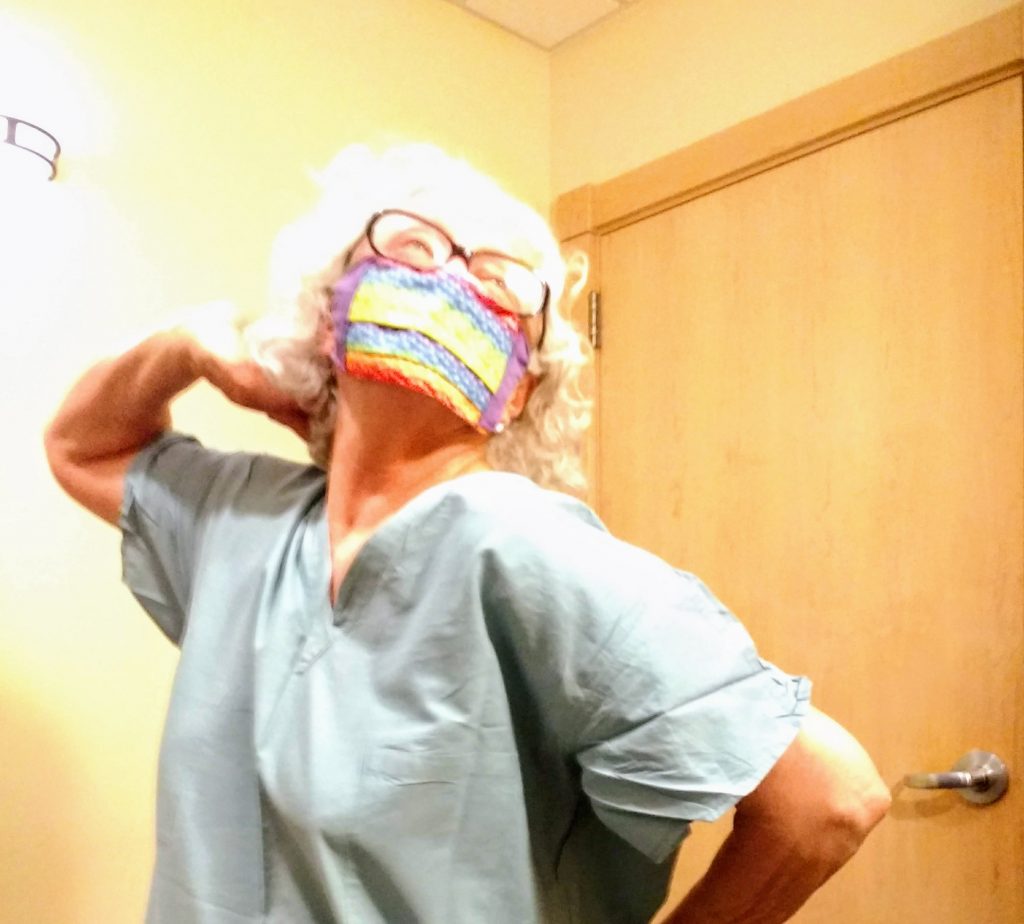 The seasonal crush of activity in the garden is ongoing. Joe pruned the grape vines and started new plants from cuttings. Cheryl has started exporting plants grown under lights in the house to the garden, and to the Farmers Market.
Yes the Farmers Market has been underway for a month now. It demands a lot of time to get products prepared, loaded and displayed with prices and information – part of the reason for the long pause between blog posts about our personal lives. On the up side, it has been a great year for market sales. Wine, map books and plants have been selling well.
Additionally, Barreca Vineyards has a new product line, biochar. The link goes to a brief description in our products section. For a better understanding, read our biochar handout.
Part of the biochar marketing effort was a workshop on making biochar. Attendees included a couple of agricultural extension agents. The process is not really hard, complicated or expensive. But it does take time that I don't really have to spare. So if any readers want a new business opportunity, let's talk.
Another opportunity that would be easy to take on is propagating grapes. I have a couple hundred started as usual. Finding bigger pots, moving them into bigger pots, and making soil for those pots is now on the agenda. It is not so easy that everyone is successful, but again, if you want a growing business. (pun intended), this one is up for grabs and doesn't have to be done on the farm.