It's raining right now. Through April we had hardly any rain. It was the driest on record. Since the beginning of May, it has been raining every few days or even more often. And so it goes for Spring as a whole, weird. The human side has been very different and except for the rain, the nature side has been carrying on in grand style.
The key date for me was March 14th, 3 months ago. It was the second day of the annual Rock Show at the Ag Trade Center in Colville. Covid 19 was becoming an issue and the rock club expected it to be lightly attended, which it was, but not nearly so bad as we expected. That was the last time public events were allowed. Masks and gloves were not a standard. Those were the days…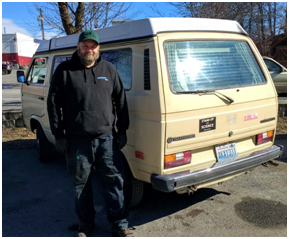 I took a break from the show to pick up our 1984 VW Vanagon from our mechanic, Jeremy, the Subaru Guru. We had a 2001 Subaru engine installed to convert our blown original VW drive train and electrical system. I wanted to get it home before the predicted snow arrived since it doesn't have winter tires. What a ride! It goes 55 mph in third and gets better gas mileage than the original. But it also will drain the battery when sitting still for a couple of days. So by April 21st we put a cutoff switch in that shuts off the entire electrical system and a new battery. It was ready for the Farmers Market that started a couple of weeks later.
The next day I started filling hundreds of empty Talenti gelato containers with rocks collected over 16 years with the Panorama Gem and Mineral Club. I had stored them in cardboard boxes on a pallet under a tarp after taking them out of the travel trailer that we gave to my daughter April's family. Her husband, Tony Huston is doing a fabulous job of restoring it but the cardboard boxes absorbed moisture over the winter and were falling apart. I even found a shed snake skin in one. The clear plastic containers now have labels and are in boxes similar to milk crates in the storage shed, very waterproof.
A week later I started reviewing many year's worth of bank records and similar correspondence that I had stored for my father. Most of those papers were recycled since they were not needed for the probate after Dad's death last year. That recycling gave me a dry spot for the rocks. Before they could be stored, sorting and labeling the rocks took weeks of time and lots of space in the greenhouse. Covered space was becoming an issue.
By March 20th the snow was gone and pruning grape plants was under way. At the same time that I prune grapes, I start cuttings for grape plants. I also transplant grapes into bigger pots using my own custom mixture of potting soil. The pots take up space in the greenhouse. The cuttings take up space in the crushing pad (where I crush grapes in the fall to make wine). That greenhouse-like covered space is in front of the storage shed. The cover (not to be confused with the new and very sturdy greenhouse itself that we built last year) was crushed in a heavy snowfall. (I know "crushed crushing pad", just too ironic.) So rebuilding the cover over the (let's call is a) "greenpad" was also a priority.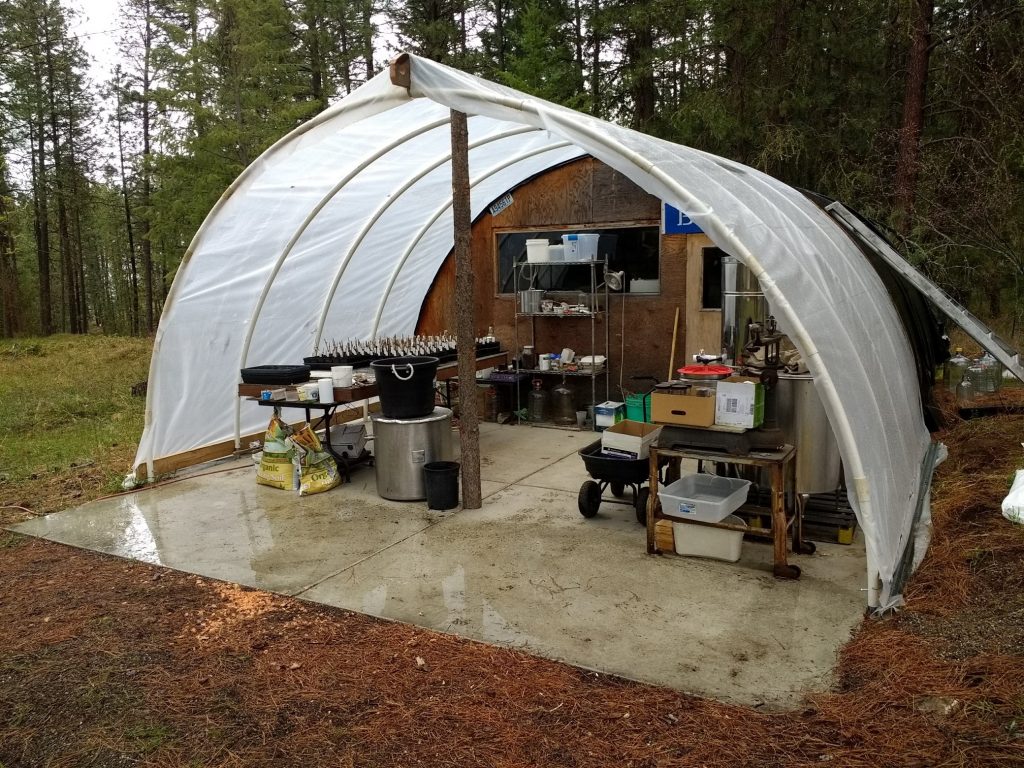 We got the greenpad covered April 11th, the day before Easter. I'm very proud of and happy about it but will spare you the technical details. Now it has about 400 grape cuttings rooted in little 4" square pots which will be transplanted to bigger pots starting soon since many are already outgrowing the small ones. As you might imagine my thoughts are full of plants, compost and pruning.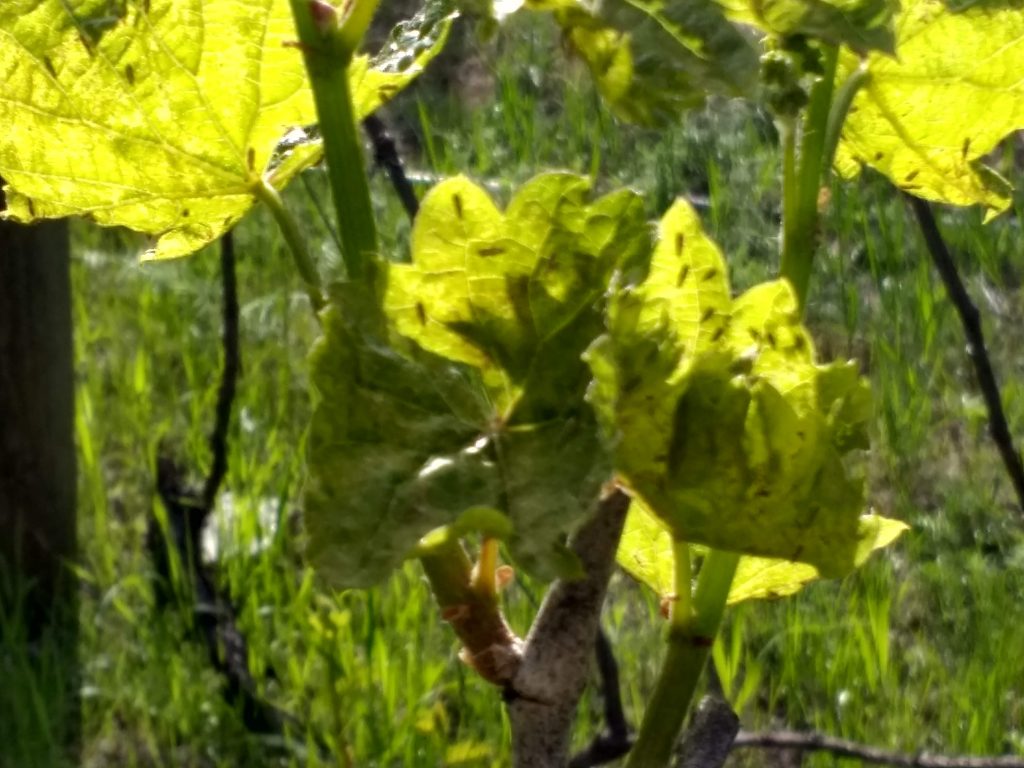 As if that was not enough, this has been an epic year for battling the most persistent pest in the vineyard, leafhoppers. They were especially bad this year because I didn't put my usual control measures into practice last year while building the greenhouse. So I read up on leafhopper control and had a range of possible techniques set up. They all worked to some extent but there are 3 or four generations in a summer. The first wave of attack is over and I have almost finished thinning out possibly infected leaves. Ironically leafhoppers are somewhat beneficial toward the end of the season because they shrivel leaves and that allows more light onto the clusters and speeds ripening.
The real key is to have strong shoot growth this time of year. To that end I have been applying compost-mulch (a mulch mix that becomes a layer of compost on the surface of the ground). It has been almost too effective in some places with dark green grass growing above my knees. Mowing it down will create another layer of mulch and continue to improve the soil. Since leafhoppers are most damaging on the first 2 or 3 leaves, strong growth beyond that overcomes the problem. I'm seeing new shoots growing out of the same nodes where the first leaves were most damaged.
Only a real microbiome nerd would carry on about his compost pile, but I am going to do that anyway. Last year I brought home a couple of huge bags of rotted feed grain mix from Red Bridge Farm Store in Kettle Falls. I had to have my neighbor Vern lift the pallet off my truck with his tractor. With a little more age and dampness over winter it has become really stinky and clumped together so that it would not blend with the rest of the mulch mix. I realized that it would compost if I could layer it in with pine straw. I added some other compost and aged cow manure along with layers of freshly thinned grape leaves and shoots. Then I watered it down and it started to work. You could see steam coming off it in the morning. A long thermometer now reads almost 140° for the center of the pile. I'm hoping it is finished working by the end of the summer so I can add it to my mulch mix if the wild turkeys don't tear it apart looking for worms.
Okay. Moving on… The hummingbirds came back on April 21st. Asparagus came up. Trees, bushes and flowers bloomed in their regular succession. People were sheltering in place. Schools closed. Businesses shut down. Traffic was at a minimum. It was a beautiful quiet Spring except for the cacophony of birds, squirrels, deer and coyotes that felt they had free reign to make all the noise they wanted. Eagles are particularly rambunctious in the morning.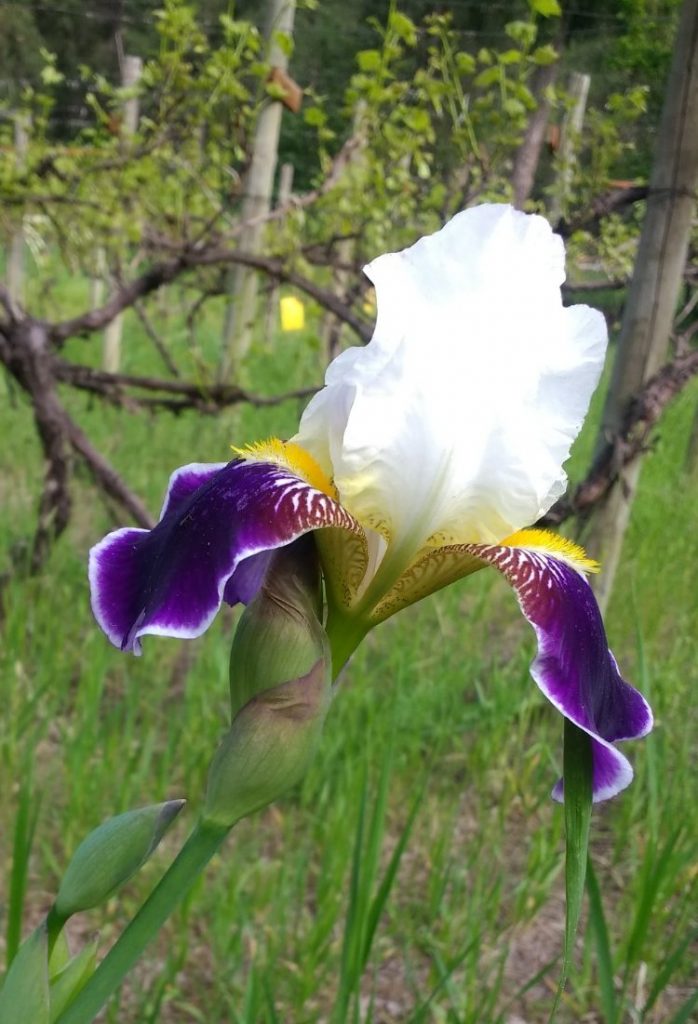 With lots of water and long days the flowers are exuberant.  Cheryl took pictures of many of them.  I wish I had taken more.  But to celebrate the occasion I have gathered them together in a little picture album.  You can also click on the picture of this iris, descended from  many that my brother John gave us years ago, to see the album.
No spring would be complete without hunting for morel mushrooms. With fewer fires last year it took more hunting. We explored some likely places and only found a few even though some of those were in our own vineyard. Then Cheryl picked up on a conversation about the fire on the North Fork of Mill Creek last year. On Mothers Day we headed out on an obscure forest service road in the general area. It was easy to spot the burn, much bigger than we imagined and the road wound right through it. Spotting the mushrooms was a little harder. They were not everywhere, but tucked into cooler, wetter places. Cheryl started searching up a fire trail on the edge of the fire. It turned out to be a great area and we came back with a couple of baskets full that graced our meals for weeks.
But we had our own boisterous gathering to attend, the Farmers Market. They started on May 6th and it rained. It rained hard, about a half inch in Colville. Amazingly it was a very good market day. And every market day has been better than our average last year. People are really into planting their own crops. I sold most of the grape plants I had right away and started potting more. Luckily many that I had written off as nearly dead sprang back to life in the rain under the shade of the old filbert tree. Grape plants sold at about the same rate as wine. I have had to stop bringing them to the market since it is past the ideal time for planting and the inventory has been picked over.
Today was the first market day that Cheryl and I have missed (June 13th). Thunderstorms were predicted. They didn't happen but a Black Lives Matter protest did happen in Kettle Falls. A lot of our friends were already there when we arrived. So were a substantial group of opposition protesters with tasteful signs like "F**k Antifa", big Trump flags and no face masks. Still they stayed to themselves and we got a lot of approving honks and waves. Rain fell on us all.