I finally got a chance to talk with Eileen Napier on the phone. She called with a headset while driving on her hour and a half commute to the Liberty Lake Farmers Market from her home near Ione, Washington.  I had just gotten up and only had one shoe on.  The conversation was not as hectic as it sounds.  I'll get back to the farmers market part but what was on my mind at first was a podcast I had listened to the day before.  Joel Salatin, the famous inventor of the "chicken tractor" (I'll get back to that too) and author of many books on natural farming, was talking on http://regenerativeagriculturepodcast.com/ about his family farm heritage.  He said "The average age of a farmer today is 65, so about 50% of America's farmland will shift in ownership in the next 15 years."  Joel expects this to be the biggest peaceful change of land ownership in human history.  The pressing questions on the podcast were who would be the next generation of farmers and just as importantly, how would they farm.
Many children of farmers are moving to the city. Farming is just not fun anymore. Farmers have one of the highest suicide rates of any labor group. (CDC.gov) I was talking to Eileen because she is in a new generation of farmers that were not raised on a farm. Her family began farming intentionally. Well maybe not knowing full on what they were getting themselves into, but they were willing to grow into it. Feeling that it is fun to farm was key to their success.
The Ramstead Farmers: Stan, Jean and Eileen
They began out where many of us who have our own gardens started, wanting to grow good clean food. To grow food without what Eileen terms "chemical dependencies", you need to learn about all of the food cycle. You can grow fruits and vegetables with soil, seed, sunshine, fertilizer and water. But all of those things are part of bigger cycles. The soil is teaming with life that breaks down dead organisms and feeds them back to living ones. Seeds evolve, are selected and sometimes are modified. Clean water comes to us from the sky, circulates through the ground, animals and plants and goes back to the ocean and the sky either cleaner or dirtier than it arrived. The food we grow feeds our bodies and much of that goes to waste. Still more plants go back into the soil, sometimes through animals. In fact that is where Eileen's family decided to step into a bigger cycle. They wanted animal protein. They decided to grow animals.
They started on 2 acres with a chicken tractor. To be clear, that is not a mechanical tractor powered by or controlled by chickens. It is just a movable pen sometimes including a chicken house that is used to feed chickens and bring their energy into eating insects, weeds and whatever is in their way. Chickens fertilize the ground as they are moved from day to day. This not only adds a lot of nutritious food to their own diet, it eliminates a lot of expensive feed. They still need good grain feed. (Salatin noted that before combines fowl meats, like chicken and turkey, were more expensive than beef or pork, which sheds a new light on the luxury of a Thanksgiving turkey dinner.) The Ramstead gets non-GMO grain from Red Bridge Farm Store in Kettle Falls but not as much of it as they would for chickens cooped up in a pen. And in turn they also deliver meat at Red Bridge Farm's store to customers near Kettle Falls.
This gets us into a whole new cycle and a reborn twist on farming. In order to make it in a world of mass markets and centralized slaughter houses, they needed not only to grow food; they had to sell it at retail prices directly to customers. Farmers markets are a current version of the way people bought and sold food for thousands of years. But with Ramstead Ranch, and hundreds of other farms, farmers markets are only the beginning.
Eileen doesn't look at the Liberty Lake Market as merely a way to sell meat, but also as a way to do research into what products people want and how customers prepare their meat. She collects and distributes recipes. She invites people to become part of the cycle of life at Ramstead Ranch as customers who get regular deliveries. And she educates people on how and why they manage their land the way they do.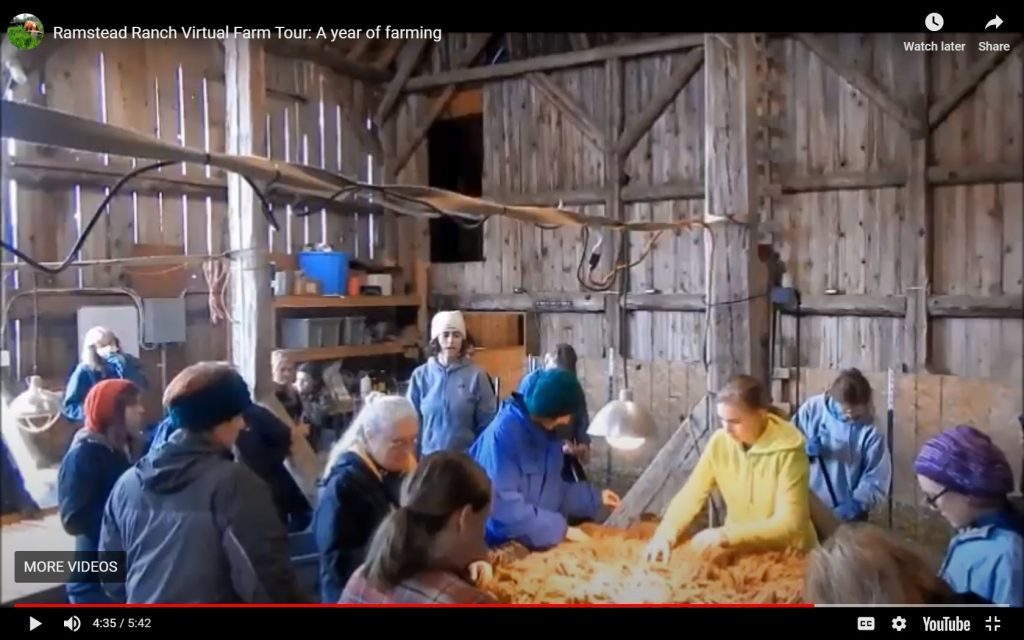 These parts of the cycle include doing classes and tours at the ranch. Education is a two-way street. Ramstead now provides five kinds of meat: chicken, turkey, pork, beef and lamb. At every step of the way expanding from one kind of livestock to another, they had to learn from books, neighbors and the Internet how to raise those critters: what breeds to select; what to feed; how to birth; what diseases to look out for; what else they could use like wool and hides… Salatin imagined a high school counselor telling an especially bright and hard-working student. "You are really talented. You could be a farmer."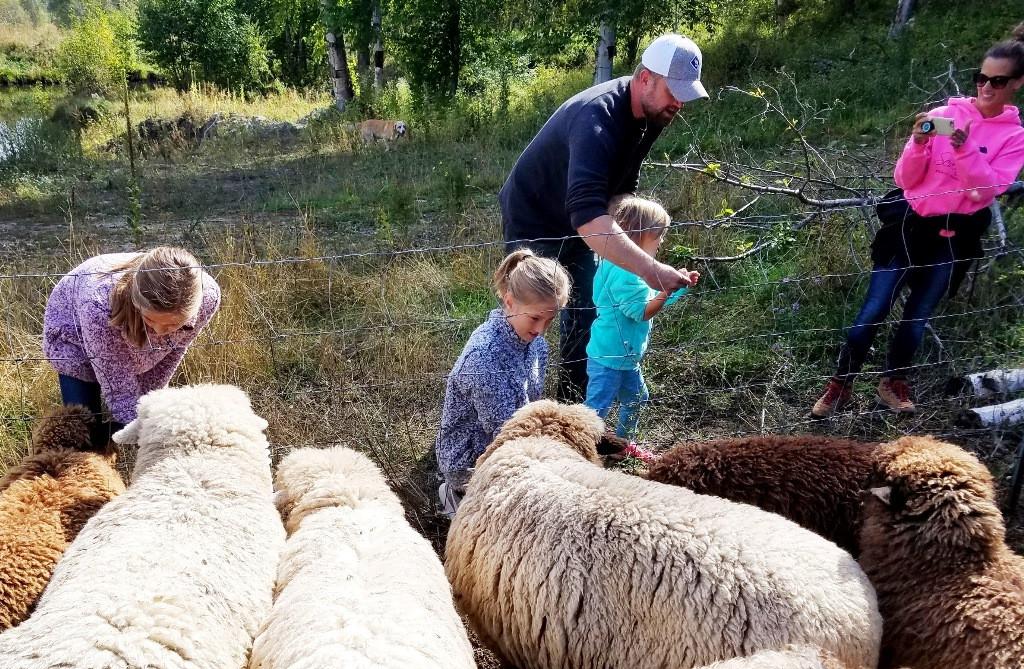 Passing that information on is not just paying it forward for Napier, it is also another income stream, agritourism. Part of her mission as a farmer is to let people be inspired by the beauty of a farm that works with happy animals and healthy plants. That part is really impressive and can also be seen on a video of a year in the life of the ranch available through their website. You don't usually think of a ranch as a place where sheep run over to check out new visitors, giant hogs like getting their backs scratched or a herd of cows and horses runs over at the sound of a whistle to be let into a fresh pasture. But that is life at Ramstead Ranch. (https://ramsteadranch.com/)
A lot of the literature about regenerative agriculture, or any farming for that matter, will be about the details of things like grazing sections of pasture hard enough to include eating weeds but not so hard that the plants can't regrow. You will read about a balance of nitrogen sources and carbon. But you seldom read about the communication between cattle and the soil microbes that Eileen calls her "invisible livestock" or connections between new farmers and old ones. Eileen says that she can learn from other farmers no matter how completely she agrees with their techniques. Fostering people-to-farm connections broadens the scope of how life on a farm naturally works and what a farmer's job really is.
There is a vision and a hope in the path that the Ramstead family has explored for making the change that Salatin sees coming in how we farm and who are our farmers. It lies not just in the techniques, the joy and the beauty of how we can farm but in the connections we all can make by joining the herds on places like Ramestead Ranch.