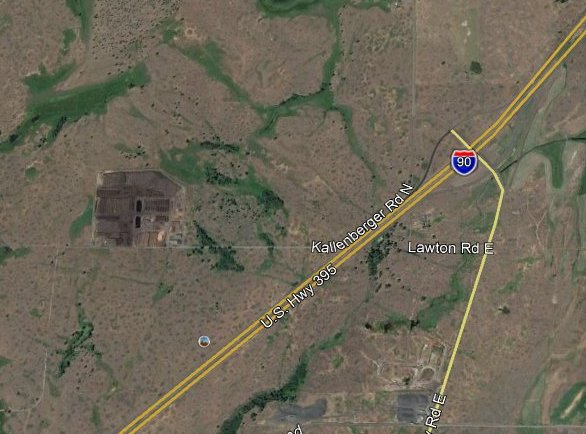 I could pick it out on the aerial photo, a little brown square next to the freeway by the Fishtrap exit.  It looked small compared to the miles and miles of wheat fields and scab lands around Sprague, Washington.  But when I got there, it seemed anything but small.  I was researching and sometimes just plain searching for compost.  Barr-Tech is the closest and certainly the biggest composting facility in northeast Washington.  It processes 350 tons of compost each day.  As part of a contract with the City of Spokane, green landscaping material, mostly branches and leaves, some wood in need of recycling, biosolids, food and paper waste arrives at the facility in enclosed semi truck trailers that are weighed and dumped one after the other.  Windrows of steaming compost towered above huge loaders and other equipment stretching out of sight.  The spacious modern office is solar powered. I met with manager Scott Deatherage and salesman Mike Brown there to learn how it worked.
Have you looked at bags of compost and potting soil lately? Gourmet ingredients have arrived, steer manure, sphagnum peat moss, mushroom compost, mycorrhizal fungi, perlite, kelp meal, biochar… You won't find those at Barr-Tech. They have two varieties, BT+ which includes the "green" yard waste mixed with biosolids, food and paper waste and BT Green, which is just green yard waste. BT Green can be used on certified organic farms. BT+ cannot. On the plus side, buying bagged compost at an average of $10 for 50 lbs. would cost $400/ton. Buying compost at Barr-Tech costs $35- $45/cubic yard. I'm okay with adding my own ingredients, what I came to find out was what is the basic process.
That can be as simple as stacking a bunch of yard waste and waiting a year or so, or as complicated as layering leaves, branches, soil, grass clippings etc. and adding yarrow blossoms, stinging nettle, valerian flowers and oak back in specific places as prescribed by Rudolf Steiner, father of Biodynamic Farming. In its favor, Biodynamic researcher, Ehrenfried Pfeiffer pioneered composting municipal waste in Oakland, California in 1950. It worked incredibly well with bacteria multiplying 300 million times within 2 or 3 days but as documented in [Ital] Secrets of the Soil [end Ital] by Tompkins and Bird, chemical companies opposed its use as fertilizer and the process was stopped until closer to this century.
Barr-Tech is still at odds with chemical companies. I'll deal with the market end later but on the receiving end just finding organic material not contaminated by chemicals is a big issue.  Any crop, lawn or other waste source that has been treated with a chemical ending in "cide" will kill bacteria.  Even chemicals marketed as fertilizer, especially ammonia, will destroy microbes.  Composting depends on microbes although the plant does not need to add any.  Just truck in a fresh load of tree limbs and they are ready to rip, Pretty much literally.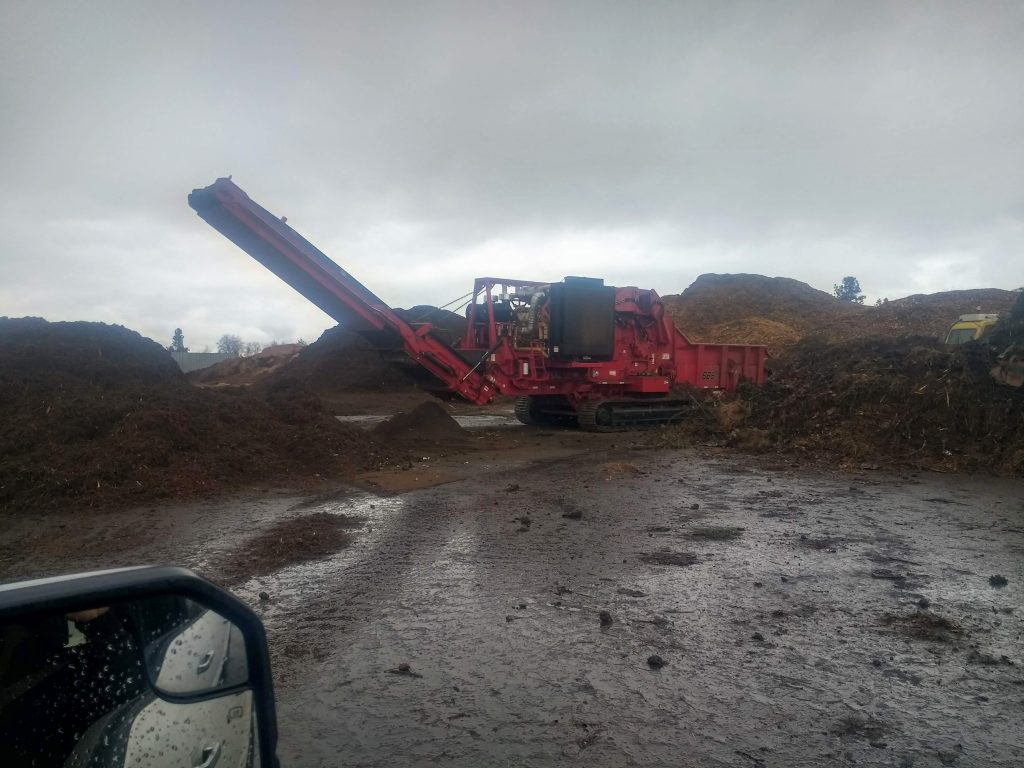 The heart of the operation in the grinder.  Everything that comes into the yard is stripped of any actual garbage such as plastic bottles and bags and run through the grinder.  From there it is either mixed with other material to create BT+ or used as is to make BT Green.  During grinding  it is hydrated to 65% humidity and then moved to windrows aligned along the aerating system which is more like the backbone and lungs of the operation.  As an aerobic composting system a balance of air, water and temperature needs to be maintained.  The piles naturally heat up as bacteria go to work.  The amount of nitrogen-rich material needs to be below 3% of the carbon mass to limit the temperature rise. Piles need to rise above 132° to kill seeds and some harmful organisms.  But they need to stay below 160° or the bacteria themselves will die.  By covering the piles with already composted material the crew insulates them from the winter cold.  The aerating fans actually suck air into the piles for cooling with tubes placed beneath them.  The steamy air is exhausted through a filter of large wood chips to absorb smells.  I will testify that the plant smells good to a farmer and there are no neighbors to complain. t
That was probably not the case in early operations at other sites. Now the industry is highly regulated with Washington State statutes similar to those governing biosolids. All the material is tested regularly for heavy metals and persistent organic pollutants (POPs). Records are submitted to the State Dept. of Ecology and the local health department annually and to the US Composting Council (USCC) Seal of Testing Assurance program monthly.
New windrows of compost are left alone for a week and then remixed and moved to a new row. After another week that windrow is taken off the aerator and left to finish. It takes 42 days from start to finished compost. The large undigested chips are separated from the pile with a rotating filter and the fine particle compost is stockpiled until sold.
It might seem that a facility that can produce 100,000 tons of compost would be an overwhelming supply, but the numbers don't say that. The recommended coverage is 10 tons per acre for a couple of years on cropland. Many farms in the Columbia Basin and Palouse are 1,000 acres. So 10 farms using 10,000 tons each could use all the compost produced. Only 60% of it is used for agriculture. The other 40% is used for landscaping, often for highway construction.
To understand the pros and cons of compost on a big farm I talked to Lamar Hege. His family uses Barr-Tech compost on their 800 acres of alfalfa and grass hay near Deer Park. He pointed out that one truckload of chemical fertilizer contains as much nitrogen as 30 semi loads of compost. But he prefers the compost. He read an article in [Ital] Progressive Forage Grower Magazine [end Ital] showing that compost enriches soil long after synthetic fertilizer and even manure have lost their impact. So he bought equipment specifically for spreading compost and tills in 5 tons per acre before seeding. Obviously transportation is a big drawback but not insurmountable. Typical customers are within 50 miles of Sprague.
So what I learned from my foray into big compost is that it is not a panacea but it is an option and a starting point. The bacteria are there and a lot of nutrients for "higher" organisms such as protozoa, fungi, nematodes, mites and worms to develop. You can add gourmet ingredients such as manure, grass clippings and biochar to speed up creation of a complete fertile biome. You can also build your own piles. Grinding, moisture, temperature and turning speed up the process. If you want fungi, using compostable material as mulch will help them develop in place. Moving compost slows the growth of fungi that are crucial to root growth.
What stuck with me is the realization that despite all the organic material I passed through in a hundred miles of farmland driving to Sprague, the most abundant source of organic matter untainted by chemicals was the city of Spokane.